When you're building a buzz from the ground up, the floor's as a good a place to begin as any.
And that's exactly where we started a retail marketing campaign that concluded with a product of the year award for a La Redoute rug.
Starting out on social media, we got such traction that La Redoute's Afaw Shaggy Rug ended up with its own Instagram channel. A Berber Rug with a social media following ... who'd have thought it?
But let's go back to the beginning of the story of a £99 rug that became "The It Rug" and regularly sold out online.
We set out to boost the prominence of French fashion and interiors brand La Redoute's homewares. We wanted to find a product that summed up La Redoute's style. Our experience in fashion marketing told us the Afaw shaggy rug was that item.
It was stylish, had neutral tones and represented real value for money. It looked like a Berber rug that would cost several times the price – thousands of pounds, even. So it was beautiful, tactile and affordable, messages we wanted to underline about the brand.
Working closely with the client, we identified the best social media channels where we could maximise the rug's exposure.
A leading interiors blogger, the former fashion editor Erica Davies, featured it as the background for her outfit photos on Instagram, where it was seen by her 84,000 followers.
On the back of that, it became popular among other social media and online influencers. Our retail marketing campaign moved up a gear as influencers such as Alison Perry, Hannah Gale, EJ Style and Fritha Quinn began hailing the chocolate brown and cream creation a hero piece for any home.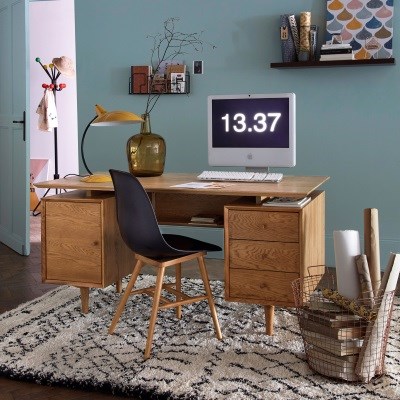 As the Afaw rug's popularity grew, so many bloggers and influencers featured it that the La Redoute team hit upon the idea of creating an Instagram channel for the rug so its superfans could share their beautifully styled photos. To this day, that Berber rug has more than 2000 followers.
The style press started to get interested because of the buzz about the La Redoute rug online and it began to be featured in traditional media as a key product in the interiors industry. Our fashion marketing had crossed over as the public drove the trend.
The La Redoute rug was soon gracing the pages of the Sunday Times Style, Good Housekeeping, Grazia and Red magazines. Even The Sun reported that "this rug will change your life".
The Afaw rug got so famous among style and interiors journalists, they were calling it "The It Rug". The interiors bible House Beautiful voted it one of their products of the year for 2017.
There was a commercial impact on the sales of other La Redoute products on the back of it. The rug has consistently sold out. It flies off the shelves and it's still for sale online.
The beauty of this retail marketing campaign is that it appears organic, as if the Afaw rug had a momentum of its own that made it a bestseller and an award-winner.
To be honest, this Scandi-influenced Berber rug is a product that sells itself – but people have to see it to buy it. Finding the right place to market it was key to its success and required insight that comes from years of experience in fashion marketing.
That's where Only Retail excelled – in targeting that one particular influencer who had the online reach to deliver outstanding results for our client.
We are the retail marketing experts. Contact us now on 0800 612 9890.